BUS LINE CRAZY HOLIDAYS - KAMIL KOC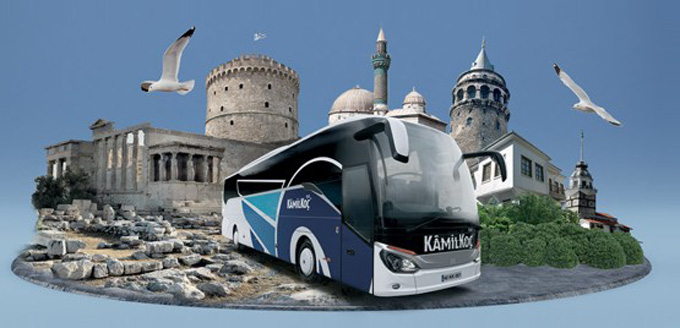 We would like to inform you that our company, in cooperation with the turkish travel agency Kamil Koc, is connecting Xanthi - Bursa three times a week.
Enjoy your trip in our luxurious, fully equipped buses. Rely on our experienced, professional drivers and escort for a safe and pleasant journey. During the trip, we offer our clients unlimited treats, coffee, tea, juice and water.
DEPARTURES XANTHI - BURSA
Every Tuesday-Friday
From Xanthi 05:00
From Komotini 06:00
From Alexandroupolis 07:00

DEPARTURES BURSA - XANTHI
Every Wednesday-Saturday 05:00
 Travel time about 9 hours
 

PRICELIST

 XANTHI - KOMOTINI - ALEXANDROUPOLI - KESANI 

 

 

One-Way 

 Round Trip 

Regular

 25 €

40 € 

Child up to 12 years old 

 12 €

 20 €
 

PRICELIST

 XANTHI - KOMOTINI - ALEXANDROUPOLI - BANDIRMA - PRUSA

 

 

 One-Wayη

 

Round Trip

Regular

35 €

7

0 €

Child up to 12 years old

18 €

 

35 €

 
We are also in the position of reserving hotel rooms, guide tours and transportation from and to the hotel for individual travellers and small groups.
For further information, please contact us.
CANCELLATIONS – REFUNDS 
Crazy Holidays reimburses 80% of the ticket price if the passenger cancels the reservation from the date of the ticket issuance and up to 8 days prior to departure. The total value of the ticket is non-refundable for cancellations 7 days before departure and until the day of the trip. Refunds for card purchases can only be made in Greek bank accounts or the ticket office. Refunds to foreign bank accounts are made by debiting the recipient.
SINCE 10/04/2014 YOU HAVE TO BUY AN ONLINE VISA IN ORDER TO PASS THE TURKISH BORDERS.
To buy your e-visa follow the link below:
For further information, visit the website of the turkish Ministry of Foreign Affairs:
http://www.mfa.gov.tr/visa-information-for-foreigners.en.mfa