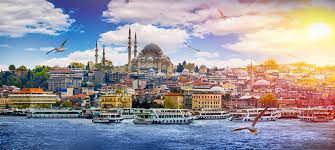 Departures from Thessaloniki : Michail Kalou 14 Str. (Close to railway station)
DEPARTURES THESSALONIKI - ISTANBUL
Daily 10:00
Every night at 21:30
Trip duration: approximately 10 hours
DEPARTURES ISTANBUL - THESSALONIKI
Daily 17:30
Every night at 22:30
Trip duration: approximately 10 hours
 

PRICELIST AND TIMETABLE

 

THESSALONIKI-KESAN

10:00, 22:00

 One-Way 

 Round Trip 

THESSALONIKI-ISTANBUL

10:00, 22:00

 One-Way 

 Round Trip 

Regular

48 
88 

Regular

60 
110

Student/Over 65 years old 

 39
71 

Student/Over 65 years old 

 48
88 

Disabled/Consulate

34 
62 

Disabled/Consulate

42 
77 

Child up to 12 years old

 24
44 

Child up to 12 years old

 30
55 
 

KAVALA-KESAN

11:45, 23:45

 One-Way 

 Round Trip 

KAVALA-ISTANBUL

11:45, 23:45 

 One-Way 

 Round Trip 

Regular

 32
 56

Regular

 
 40
70 

Student/Over 65 years old 

 26
45 

Student/Over 65 years old 

 
 32
56 

Disabled/Consulate

25 
40 

Disabled/Consulate

 
28 
49 

Child up to 12 years old

 16
28 

Child up to 12 years old

 
 20
35 
 

XANTHI-KESAN

12:30, 00:30, 01:30

 One-Way 

 Round Trip 

XANTHI-ISTANBUL

12:30, 00:30

 One-Way 

 Round Trip 

Regular

 25
40 

Regular

 
30 
50 

Student/Over 65 years old 

20 
32 
 

Student/Over 65 years old 

 24
40 

Disabled/Consulate

17 
28 

Disabled/Consulate

 
21 
35 

Child up to 12 years old

 12
20 

Child up to 12 years old

 
 16
24 
 

KOMOTINI-KESAN

13:30, 01:15

 One-Way 

 Round Trip 

KOMOTINI-ISTANBUL

13:30, 01:15 

 One-Way 

 Round Trip 

Regular

 25
40 

Regular

 
 30
50 

Student/Over 65 years old 

20 
32 

Student/Over 65 years old 

 
 24
40 

Disabled/Consulate

17 
28 

Disabled/Consulate

 
21 
35 

Child up to 12 years old

12 
20 

Child up to 12 years old

 
16 
24 
 

SAPES-KESAN

14:10

 One-Way 

 Round Trip 

SAPES-ISTANBUL

14:10

 One-Way 

 Round Trip 

Regular

25 
40 
 

Regular

 30
50 

Student/Over 65 years old 

 20
32 

Student/Over 65 years old 

 
 24
40 

Disabled/Consulate

17 
28 

Disabled/Consulate

 
21 
35 

Child up to 12 years old

12 
20 

Child up to 12 years old

 
 16
24 
 

ALEXANDROUPOLI-KESAN

14:30, 02:00

 One-Way 

 Round Trip 

ALEXANDROUPOLI-ISTANBUL

14:30, 02:00 

 One-Way 

 Round Trip 

Regular

25 
40 

Regular

 
30 
50 

Student/Over 65 years old 

20 
32 

Student/Over 65 years old 

 
24 
40 

Disabled/Consulate

17 
28 

Disabled/Consulate

 
21 
35 

Child up to 12 years old

 12
20 

Child up to 12 years old

 
16 
24 
SPECIAL PRICES for reservations in 3*, 4* & 5* hotels in Istanbul with your ticket issue.
For further information and group arrangements contact us.
CANCELLATIONS – REFUNDS
 Crazy Holidays reimburses 80% of the ticket price if the passenger cancels the reservation from the date of the ticket issuance and up to 8 days prior to departure. The total value of the ticket is non-refundable for cancellations 7 days before departure and until the day of the trip. Refunds for card purchases can only be made in Greek bank accounts or the ticket office. Refunds to foreign bank accounts are made by debiting the recipient.
SINCE 10/04/2014 YOU HAVE TO BUY AN ONLINE VISA IN ORDER TO PASS THE TURKISH BORDERS.
To buy your e-visa follow the link below:
For further information, visit the website of the turkish Ministry of Foreign Affairs:
http://www.mfa.gov.tr/visa-information-for-foreigners.en.mfa